ALFRED Research Infrastructure Conference: Looking Ahead
---
The State-Owned Company Technologies for Nuclear Energy (RATEN) and the Institute for Nuclear Research Pitesti-Mioveni (RATEN ICN) organized the ALFRED Research Infrastructure Conference: Looking Ahead between October 22-23, 2020.
The conference was organized in the framework of PRO ALFRED research project funded by the Ministry of Education and Research through PNCDI III, Sub-Program 5.5 in order to prepare Romania's contribution to the construction of ALFRED research infrastructures in our country.
ALFRED is a complex infrastructure comprised of the demonstration reactor and a series of experimental support installations. The objective of the infrastructure is to demonstrate the technical and economic viability of pure lead-cooled fast reactor technology, one of the six advanced nuclear technologies that will help improve nuclear energy performance (more efficient use of resources, reduced volume and radiotoxicity of waste generated, increased efficiency economic, security, strengthened resistance to proliferation).
The development of ALFRED infrastructures in Romania is part of the national and European efforts dedicated to climate change mitigation and energy security through innovative solutions and it is a priority project in the field of nuclear energy and research, supported both in the National Strategy for Research-Development-Innovation, as well as in the Strategy for Smart Specializations of the South-Muntenia Region.
The conference presented the status of LFR technological developments at international level, the results of the PRO ALFRED project and their contribution to the development of ALFRED infrastructures, as well as the prospects of stimulating the national research and innovation potential, but also that of Romanian industry and business environment.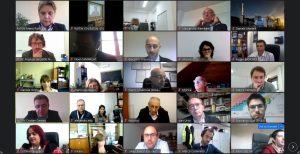 ---